About
Varispeed is a collective of composer-performers that creates site-specific, sometimes-participatory, oftentimes-durational, forevermore-experimental events. Founded by Aliza Simons, Dave Ruder, Paul Pinto, Brian McCorkle, and Gelsey Bell, Varispeed came together in June 2011 to perform Perfect Lives Brooklyn, a 12-hour celebration of Robert Ashley's landmark opera. Subsequently, they were invited to perform a new arrangement of Perfect Lives across the river as part of Performa '11. This version, Perfect Lives Manhattan, made Time Out New York and New York Times' critic Steve Smith's "Best of 2011" list. Varispeed have subsequently performed updated arrangements of Perfect Lives in the Catskills, presented by Mount Tremper Arts, in August 2013, in Pittsburgh, presented by Alia Musica and the Pittsburgh Festival on New Music, in May 2014, and in Jersey City, NJ, presented by Con Vivo Music, in September 2015, along with performances of selected parts at WFMU's Monty Hall, Wesleyan University, and Qubit.
In August 2012, Varispeed presented their second full scale project, an overnight arrangement of John Cage's Empty Words, which was performed at Roulette, Exapno, and across the Brooklyn Bridge. Excerpts of this performance were released on Gold Bolus Recordings in 2019. In August of 2013, Varispeed created an arrangement of Arthur Jarvinen's Adult Party Games, a collection of conceptual scores, during a residency at Mount Tremper Arts. Varispeed has also performed for Cage's centenary at The Stone (September 2012), presented their work on Perfect Lives at Performers Forum (December 2011), and released a series of 1-minute opera recordings. Since 2011, the members of Varispeed have delved deeply into the work of Robert Ashley, performing not only Perfect Lives but premiering the composer's final piece, Crash, at the Whitney Biennial 2014 (reprised at Roulette in 2015 and at Wesleyan University in 2018), performing in the restaging of That Morning Thing (November 2011), arranging a trio version of Love is a Good Example (May 2014), and creating their own arrangement of Public Opinion Descends Upon the Demonstrators (March 2013).
Varispeed's members regularly perform together as members of Panoply Performance Laboratory, thingNY, and the band Why Lie?, as well as under their own names.
Group Members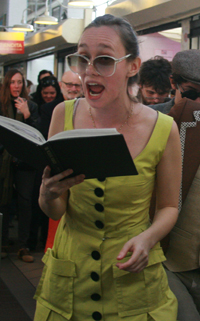 Gelsey Bell is a singer, songwriter, and scholar. Her performance creations have been presented internationally and she has released multiple albums. She is a core member of thingNY, Varispeed, and the Chutneys. She is the 2018 EtM Ridgewood Bushwick Composer-in-Residence, she received a 2017 Foundation for Contemporary Arts Grants to Artists Award, and was an artist-in-residence at Roulette in 2015/16. Her works include Bathroom Songs, Scaling, Our Defensive Measurements, This Takes Place Close By (with thingNY), and Prisoner's Song (with Erik Ruin). Other performance highlights include Dave Malloy's Natasha, Pierre, & the Great Comet of 1812 (Broadway) and Ghost Quartet, Robert Ashley's Crash, Matthew Barney and Jonathan Bepler's River of Fundament, and Gregory Whitehead's On the Shore Dimly Seen. She has a PhD in Performance Studies from NYU and is the Critical Acts Co-editor for TDR/The Drama Review and the Reviews Editor for The Journal of Interdisciplinary Voice Studies. gelseybell.com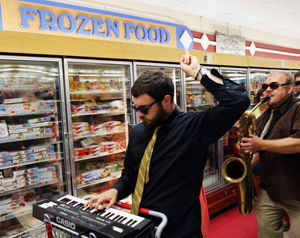 Brian McCorkle is a composer, musician, and performer. In addition to his work as What Color is Your Machine Gun? and with the composer's collective Varispeed, he is the Co-Director of the Panoply Performance Laboratory (PPL) with Esther Neff. PPL makes large scale performance art operas in addition to duo and small group performances around the world.  brianmccorkle.work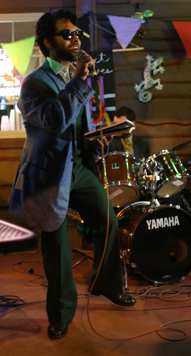 Paul Pinto is a composer, writer and multi-disciplinary performer. He founded the experimental music ensembles thingNY and Varispeed. Paul released his album minis/Trajectories featuring eight verbose chamber compositions. Paul is an avid interpreter of the weird, recently playing the lead in Eight Songs for a Mad King, and often arranging and performing the works of Robert Ashley. He originated the role of Balaga on Broadway's Natasha, Pierre and the Great Comet of 1812. His psychedelic electronic opera, Thomas Paine in Violence, premiered at the HERE Arts Center in November 2017. pfpinto.com
Dave Ruder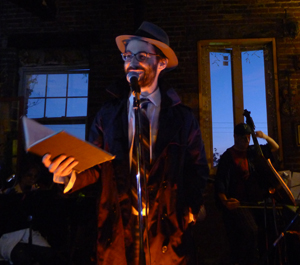 is a Brooklyn-based vocalist, clarinetist, guitarist, electronicist, composer, songwriter, writer/librettist, interdisciplinary collaborator, etc. Dave is a member of thingNY, Varispeed, and Thee Reps. Since 2013, Dave has been the driving force behind Gold Bolus Recordings, where he has released numerous solo albums. As a composer, Dave wrote The Gentleman Rests, a meditation on the certification of the 2000 presidential election, with a commission from the Jerome Foundation and Roulette in 2014. Dave holds degrees from Wesleyan University and Brooklyn College. daveruder.com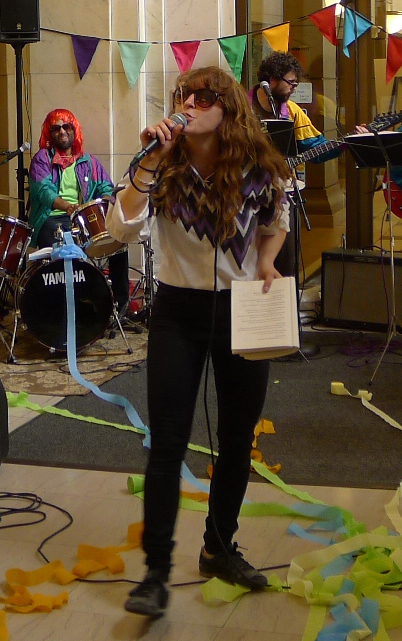 Aliza Simons works as a transmission artist, ceramicist, musician, songwriter, prop & craft stylist and occasional ukulele teacher. She performs as a member of the song-based band Why Lie?, with Dave Ruder, and Dr. Zizmor, a homemade-electronic-instruments duo with Ian Munro. She first discovered Perfect Lives (Private Parts) in her father's cassette tape collection in middle school and was forever changed.